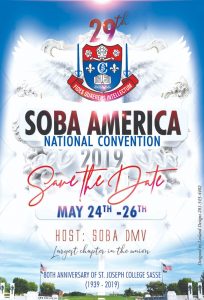 The 2019 SOBA America National convention shall be hosted by the largest chapter in the union; SOBA DMV (Washington Metropolitan area), United States of America from May 24th to 26th, 2019. SOBA DMV welcomes you to the Capital City – the land of the United States Capitol Hill. The land of the Jefferson and Lincoln Memorial. The land of the White House. A land with top attractions that include diverse terrain and natural splendors; naval and space facilities; museums and historic sites; wild horses and gardens; theme parks and casinos; music and film; sorts and resorts; eclectic shopping and cutting-edge dining.
SOBA DMV is once again poised to treat SOBANS to a classy affair reminiscent of the amazing show they put during the 2017 SOBA America Mini-Convention. The 29th SOBA National Convention Committee Chair, William Mpafe, Co-Chair, Aldrin Ngwa; and the President of SOBA DMV, Ekole Fojungo are working tirelessly to ensure that SOBA DMV 2018 lives up to the hype and give you all an electrifying experience.
Hotel rooms at the Hilton Baltimore Inner Harbor (401 W Pratt St, Baltimore, MD 21201) which will host SOBANS are going fast. CLICK HERE TO BOOK YOUR HOTEL ROOM NOW
For a sneak peek of the marvelous Hilton Inner Harbor and surrounding site seeing, CLICK HERE.
All flights shall be heading to Baltimore, Maryland! Get your tickets now. Register for the convention by paying your convention levy online now! Don't miss out on this great event.