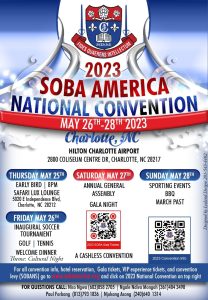 SOBA Carolinas is working hard to put up an amazing National Convention come Memorial Day Weekend 2023. All roads will be leading to the Queen City of Charlotte, NC. The 2023 SOBA America National Convention shall take place from May 26th to 28th at the Hilton Charlotte Airport hotel.. As a reminder, here are some important facts about the upcoming convention
(1) Theme: Building a healthier SOBA America: The theme of this year's convention is "Building a Healthier SOBA America." There will be several elements of the convention centered on this theme. Some of these include
Intellectual enrichment session: We will discuss health and wellness. You will not want to miss this.
We will have a fitness program for our SOBANESE during the general assembly. We are finalizing those plans and will send information for you to sign your SOBANESE up for a great experience.
We will have out inaugural soccer tournament that will also involve the local community.
(2) Important firsts: There will be some new additions to our national convention this year. You don't want to miss this. Some of these include.
Career workshop: This will be a great opportunity to get SOBANS with similar career interests to network and share information and expertise with each other. It will be a feeder for our mentorship program – our Big Brother Initiative. Sign-up for a career interest from the dropdown list offered when you register for the convention on our website.
SOBA America Mini-soccer tournament: Come, join us as we galvanize the community and get our younger SOBANS engaged in a fun-filled tournament. It will be a fun weekend for your entire family. Make it a family vacation. There will be fun activities for all.
VIP experience: We are putting together an exquisite experience for SOBANS and patrons who want to enjoy a VIP experience throughout the weekend. Gone are the days when VIP simply meant premium drinks at the gala. It will be much more than that. You can check out the full package on the 2023 National convention page on our website.
VIP Convention: For the first time, everyone will essentially be a VIP as all our hotel rooms for the convention are suites. Book your room before April 25th to get the discounted rate.
(3) Community Service: We look forward to giving back to the community during our National Convention weekend with our community service activity. The organizing team is finalizing plans and will announce the activity soon. We hope to get a huge participation.
(4) Cashless Convention: We will not accept cash at our convention. We will have multiple options for electronic payment. In addition to reducing likely hood of transmission of COVID-19 through cash changing hands, this change will help improve efficiency, accountability and transparency with our financial management.
There are just some of the highlights of the 2023 National convention. Make it a date to Charlotte, NC come Memorial Day weekend and enjoy a remarkable convention experience. Go to the 2023 National Convention Page of our website for all your convention needs including registration and hotel booking. You can get all this done at our 
ONE STOP SHOP – the 2023 National Convention Page of our Website