Carolinas chapter raises the bar on mini-conventions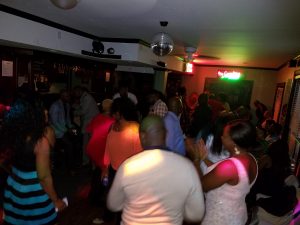 SOBA Carolinas – The Carolinas chapter of SOBA America – staged a masterclass 2016 SOBA America mini-convention from November 11th to 13th 2016. The entire buzz that led SOBANS to converge to the Queen city from all across the US and Canada for the mini-convention was definitely justified according to early reports from delegates.
The Carolinas Cameroonian community joined SOBA Carolinas to welcome SOBANS at an exquisite welcome soiree hosted by the chapter president and his wife – Dr. and Mrs. Fote. The basement had been transformed into a part upscale restaurant and part night club as the guests were treated to an abundance of food, music and libation. SOBANS and other guests were served with cocktails by professional bartenders hired for the event, before renowned Cameroonian Chef Tabah of Afrique Cuisine let them to the buffet table. As they wondered what else the Carolinas chapter had in store, they were lured onto the dance floor by DJ Man No Run's musical genius. The ambiance ecstatic, the setting was perfect and the crowd lively. By the wee hours of morning, the tired legs and smiling faces were evidence that the Carolinas chapter meant business. Talk about southern hospitality. SOBANS were stunned by the reception they were getting for, as one of them put it "only a mini-convention." They wondered what was next.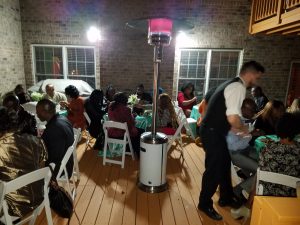 Amazingly, SOBANS showed up early for the business meeting on Saturday morning. President Itoe and Chairman Fote briefed the delegates on their recent trip to Sasse for the first annual SOBA America Day. They talked about the fifty (50) scholarships that were awarded, their meeting with the staff and their mentoring session with the graduating class. President Itoe also shared highlights of their meeting with Soba General President – Professor Ngwafor during their trip in Cameroon. He covered major points from his meeting with Bishop Bushu and gave a brief account of the launching of SOBA Nigeria.  President Asa'ana of SOBA Georgia gave an update on his chapter's preparatory activities for the 2017 National convention. He mentioned some challenges in securing a location for the gala and pledged to continue working hard on it. Delegates also resolved to impose a deadline for registration for SOBA America conventions (including payment of convention levy) at least 2 to 3 days before the start of the convention weekend with a $10 fine for those who wait until convention time.  There was also a brief presentation on housing opportunities in Cameroon for SOBANS who want to invest in real estate or simply own a home in Cameroon. Some proceeds from sale of these homes shall be donated to the scholarship endowment fund. Regarding the fund, chairman Fote made an emotional plea to delegates to get involved with fundraising efforts.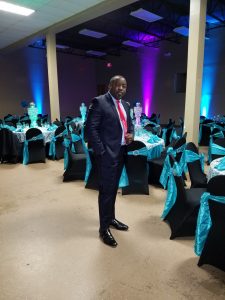 Saturday night was marked by a classy fundraising gala organized by SOBA Carolinas. It was a continuation of the fun and entertainment that started on Friday night. SOBANS and other guests were thrilled and thoroughly entertained. The turnout was huge and the mood was highly festive. The weekend ended with a brunch hosted by Carolinas chapter CFO and his wife, Dr. and Mrs. Enohmbi.
In all, it was a very successful weekend. SOBA Carolinas, the newest chapter of SOBA America definitely announced themselves to the stage in grand style. Early reports from SOBANS from all over the US and Canada and other guests pointed to one resounding message – the bar for hosting mini-conventions has definitely been raised high by SOBA Carolinas show of class, entertainment and strong organization. The strong delegation from Atlanta now has their work cut out for them as they prepare to host the 2017 SOBA America National Convention from May 27th to 29th 2017. They were happy with what they saw and promised an even grander show in Atlanta. In fact, SOBA America VP- Dr. Fote challenged SOBA GA president Dr. Asa'ana to have a 6 day event. He dubbed the days – Motivation and "juju " Wednesday, Early Bird Thursday, Welcome Friday, D-day Saturday, After event Sunday and Bye bye Monday. Of course it was a joke …but you never know what the ATL guys can pull off their sleeves. Affaire a suivre…