Sasse Alumni Association holds first ever SOBA America Day in Sasse College
The US and Canada based Alumni of St. Joseph's College, Sasse, Buea, Cameroon, also known as SOBA America, held its first ever SOBA America Day on the campus of their alma mater on Sunday October 9th, 2016. SOBA America President – Frederick Itoe, and Vice-President /Co-chair of the board for Sasse Alumni Association – Dr. Bertrand Fote, both flew in from the USA to preside over activities and hand scholarships to fifty (50) students. The highly successful first SOBA America Day which started at 9 a.m. with mass left students, staff, parents, dignitaries and other guests already looking forward to next year's event by the end of activities at 6p.m.
Attendance:
The first ever SOBA America Day was heavily attended by the hierarchy of the catholic church in the Buea diocese, SOBA general and the Buea SOBA chapter, Sasse college leadership and staff and parents of the laureates and other invited guests. The over 900 students were visibly delighted to see their school flooded with so many dignitaries and other guests throughout this special day. The over 150 guests were also clearly excited by what they witnessed as the day progressed. The event was covered by local and national media.
Highlights:
SOBA America Day was a day for the students in Sasse College to "learn from and interact with" their big brothers from SOBA America. The day started at 9:00a.m. with mass.
Mass celebrated by Bishop Immanuel Bushu:
The students and guests gathered in the school chapel for mass. His Lordship Bishop Bushu of Buea, proprietor of St. Joseph's College, Sasse, led a team of clergy. Bishop Bushu's message of giving back and serving resonated in the congregation as he thanked SOBA America for this gesture of goodwill. Mass was heavily attended by the over 150 guests and the student body.
Sasse Alumni Association/SOBA America Scholarship Awards Ceremony: After mass, the Blessed Sacrament was taken off the sacristy and the chapel was converted into a makeshift auditorium to accommodate the main event of the day – the scholarship awards ceremony. Sasse College principal –
Father Valentine Suum, welcomed the SOBANS, dignitaries and guests. He challenged the students to take the advice from the SOBANS seriously and to study hard. The Vice President of SOBA General – Professor Ernest Molua, in his remarks, reminded the students of the importance to pursue their God-given talents in any domain and not limit themselves to academics.
SOBA America President – Frederick Itoe, thanked the former principal Fr. Peter Nouck, together with current principal – Father Valentine Suum and Bishop Bushu for the role they played in making this annual SOBA America Day ( second Sunday of October) possible. He praised the students and staff for their hard work that has led to consistent 100% passing scores in the National G.C.E. Ordinary Level and Advanced Level exams. He then challenged the students to crown that 100% pass rate with better individual grades. He announced a reward, from Sasse Alumni Association, of 1 million FCFA to any student who scores 5 straight A's (25 points) in the G.C.E. Advanced Level exam and 500,000 FCFA to any students who scores 11 straight A's (33 points) in the G.C.E. Ordinary Level exams over the next three years. That was met with rapturous applause by the students and staff. President Itoe then introduced the keynote speaker – SOBA America Vice-President and co-chair of the board of directors of Sasse Alumni Association, Dr. Bertrand Fote. He highlighted the fact that Dr. Fote's personal story was the inspiration for the creation of the scholarship awards.
Dr. Fote used his story to send a message of hope, positive thinking and hard work to the students. He recounted how his life was changed when he received a scholarship from an alumnus – the late professor Victor Anomah Ngu – when he was a student in 1991. He told them how the impact of that moment gave him a sense of purpose and inspired him to seek to become a doctor and change lives. He also expressed his dream that these scholarships will not only provide financial help to the recipients, but will also inspire and motivate the entire student body and make the kind of difference that he experienced some twenty-five years ago. He re-iterated SOBA America's mission of giving back in order to help change lives of students in a positive way.
Bishop Immanuel Bushu gave closing remarks at the end of the awards ceremony. He thanked SOBA America for their kindness and challenged all other SOBA braches in Cameroon and around the world to follow SOBA America's example and leadership and create similar annual occasions. "Let us also have SOBA UK Day, SOBA General Day and other SOBA Days in Sasse every year," he said.
The awards: Fifty (50) students received awards in the presence of most of their parents. The awards were divided into three major categories. Need based awards were given to students with passing averages, who had demonstrated financial need in an essay submitted during the selection process. Several students from each of Forms 2,3,4,5 and Upper sixth received these awards. Some of the stories in their essays were heartbreaking, to say the least.
Dr. Fote expressed his desire to see an increase in the number of need based awards in the coming years, if funding permits. Merit based awards were divided into conduct based and academic based. Awards were given to the neatest student and the best behaved student in each class. Recipients were nominated by their fellow classmates based on criteria provided by Sasse Alumni Association. Awards were also given to students who had shown greatest academic improvement in each class, incoming freshman with the best grades, the graduating students with the best G.C.E. results and the top students in each class. These were based on data from last academic year.
Because of this fact, incoming freshman students (Form 1 and Lower Sixth) were largely left out. Sasse Alumni Association, therefore, created a Lottery category for the freshman classes. Four (4) students from Form 1 and four (4) from Lower sixth were drawn at random to receive the lottery awards. They had to be present at the ceremony to get the award.
Special meal for the students: After the awards ceremony, there was a brief photo session in front of the school's main academic building. The students the rushed to the refectory with broad smiles on the faces spelling excitement and anticipation of a special treat from SOBA America.
They were treated to a catered meal with assorted soft drinks. The dignitaries, parents and other guests were also treated to lunch co-sponsored by St. Joseph's College Sasse and SOBA America.
The day was far from over for President Itoe and Chairman Fote. The afternoon segment of SOBA America Day was highlighted by meeting with the staff and a mentoring session with the graduating class interspaced with impromptu sessions with students who flocked them with lots of questions, and a few interviews with the media.
Meeting with the staff: President Itoe and Chairman Fote held a one hour meeting with the staff in their staff room. Their main goal was to listen to the staff and ask one questions – what do you need to get Sasse College to have at least one student scores all A's in the O'Level and A'Level, and how can SOBA America/Sasse Alumni Association help?
The staff started the conversation by expressing deep appreciation to SOBA America for all the contributions made to Sasse College over the past 26 years. They then voiced a number of challenges such as lack of adequate resources (chemicals and other laboratory supplies for the sciences, internet access, updated books in the library), work place infrastructure (staff room needs such as refrigerator and remodeling), motivation (for staff to increase satisfaction and drive). They took notes and pledged to discuss the issues with the SOBA America body to see how SOBA America can assist where possible.
Mentoring session with graduating class (Form 5 and Upper sixth students):
President Itoe and Chairman Fote's marathon day ended, at least officially, with a career advice and mentoring session with the graduating class. The students asked several engaging questions about different career paths, study tips for academic excellence, studying in the United States and much more. The session lasted much longer than the one hour it was planned for, as the students were eager to get as much inspiration, motivation and advice from their senior brothers from SOBA America. President Itoe once again reminded the students of the challenge he had given them during the awards ceremony and the reward for achieving that feat.
Final Thoughts: The first ever SOBA America Day was a resounding success. All boxes were checked – motivate and encourage students, provide much needed financial assistance to students, reward hard work and good behavior by students, interact and mingle with students, promote the mission and vision of SOBA America/Sasse Alumni Association with regards to giving back to our beloved alma mater, discussing hared goals and values with key stakeholders of St. Joseph's college, Sasse.
The long and physically exhausting day for President Itoe and Chairman Fote was definitely worth every sweat that had gone into planning and executing this event. We hope that many more SOBANS from SOBA America, SOBA General and other SOBA chapters will be present at next year's SOBA America Day slated for Sunday October 8th, 2017 in the campus of St. Joseph's College, Sasse, and Buea, Cameroon. Many students who did not receive awards this year have already indicated that their plans to work hard and get an award next year are underway.
A word of Appreciation to our donors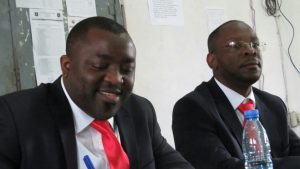 The Board of Directors of Sasse Alumni Association would like to thank all our patrons who donate so generously towards our scholarship endowment fund. Thanks to your kindness, fifty (50) students were blessed with scholarships this year. Even more students had a potentially life changing moment because of your generosity. You have touched not just the lives of these students who received scholarships but many more lives that will be impacted by these students as a result of your kindness. THANK YOU!
We are still far from our goal of raising $250,000 to create this fund that will allow the scholarships to be given annually without interruption. Please consider supporting us again by making your tax-deductible gift online at our website https://www.sobamerica.org/scholarship-endowment-fund/ or our crowdfunding site https://www.crowdrise.com/helpeducateachildtoday/fundraiser/sassealumniassociati