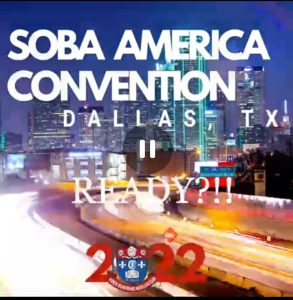 The 2022 SOBA America National convention shall be held in Dallas, TX from May 27th to 29th, 2022. After a two year hiatus from face-to-face conventions due to the COVID-19 pandemic, SOBANS all across SOBA America Nation are exited to once more get together in one room.  By all indications, Dallas 2022 promises to be a marquee event. The administration is working closely with the convention planning committee to put on a masterclass come Memorial Day 2022.
After two virtual conventions, this will be the first opportunity for the Fote administration to implement the much needed changes to the way we plan and execute our conventions to improve efficiency, effectiveness and professionalism at our conventions. SOBANS and our patrons are poised to have a great experience. The 2022 convention, though an in=person convention, is occurring in the backdrop of the COVID-19 pandemic Consequently, the administration is taking steps to ensure the safety of SOBANS and patrons attending convention activities. Some of the elements of the COVID-19 plan for the convention include
(1) Vaccine Mandate: All delegates and guests at the convention are required to be fully vaccinated against COVID-19. They will need to show proof of vaccination status. They are urged to e-mail the proof of  vaccination status (copy of vaccination card) to [email protected] by May 20th. This mandate will be strictly enforced.
(2) Cashless Convention: SOBA America not accept cash at our convention. We will have multiple options for electronic payment. In addition to reducing likely hood of transmission of COVID-19 through cash changing hands, this change will help improve efficiency, accountability and transparency with our financial management.
(3) Masks: SOBA America will closely monitor CDC guidelines and follow them. From a public health perspective, mask wearing has been proven to be an effective tool in the prevention of the spread of disease. On February 25th, the CDC released new county specific mask recommendations for counties across the US based on a number of factors including new cases, hospitalizations, and hospital occupancy rates. Based on that the CDC recommended no indoor mask wearing for Dallas County. As we all know, conditions may change leading to changes in recommendations. We will monitor closely and either mandate mask wearing or highly recommend mask wearing, depending on the CDC's recommendations during the convention weekend.
(4) Temperature checks: We will do temperature checks at different points during the convention.
(5) Hand sanitization: We will ensure that there are adequate hand sanitization stations available. We will also take appropriate steps to ensure proper safety measures with food service.
The 2022 National convention promises to be an iconic one. Activities have been planned from Thursday through Sunday of the convention weekend. Sports and recreational activities such as golf, soccer, table tennis and a boat ride are on the menu. SOBA America will also give back to the community by participating in a community service activity on Sunday. This will be an annual event at SOBA America conventions.  All roads will be leading to Dallas come Memorial Day 2022 – get ready and book your tickets now.