The 2022 SOBA America National Convention will go into history as one of the most innovative and impactful conventions so far. Team Dallas 2022, together with the National Leadership team, laird out the foundation and blueprint for the way our conventions should be executed moving forward. There were certainly many successes and first in Dallas 2022. Let me attempt to highlight a few key moments/events.
Cashless Convention: For the first time in our history, we had a cashless convention. No cash was accepted throughout the process from pre-convention registration to convention sales. Several electronic methods of payment were made available to SOBANS and patrons. The result was a safer process given the pandemic, a smoother payment process after some initial kinks were addressed, and better transparency and accountability. Because of this, the financial team is in a better position to have a timely financial report. That will be out soon as only a few items such as final hotel bill and some invoices from vendors are pending.
Thursday: Proclamation of SOBA America Day in the Town of Addison, TX by Mayor Joe Chow
In a ceremony held at City Hall, Sunday May 29th, 2022 was proclaimed SOBA America Day in the town of Addison, TX where we held our convention. This was in recognition of the work that SOBA America and SOBANS do for the community, and in appreciation of the fact that we chose their city for our convention. SOBA Dallas President Paul Forbang, SOBA 2022 Convention chair Emeritus Mafany Itoe, co-chair Edwin-Daniel Ndoko, and Secretary General Divine Tange accompanied me to City Hall to receive the proclamation. The text was read to SOBANS at the annual general assembly meeting and at the gala.
Friday:  Community Service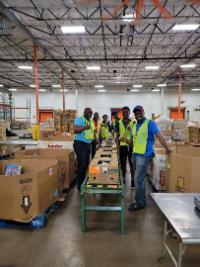 We kicked off Friday's events with a community service activity. SOBANS from SOBA America Nation volunteered at Crossroads Community Services in Dallas, TX. The SOBAN volunteers helped pack boxes with much needed food supplies to feed the poor and underprivileged in the community. Crossroads' mission is to nourish its community's low-income families and individuals by providing nutritious food and supportive education.
It was a truly rewarding experience for the SOBANS who made it as their action helped make a difference in the lives of many in need. This was another first for SOBA America – doing community service at our annual national convention. It will become part of our convention moving forward.
Friday: Boat ride:
The boat ride was an idea brought on by the Dallas Convention Committee which was endorsed immediately by the NLT. It turned out to be a great hit among SOABNS and patrons who had a boat load of fun and entertainment. At the end of the ride, SOBANS and patrons were asking for an encore in Charlotte 2023 and beyond.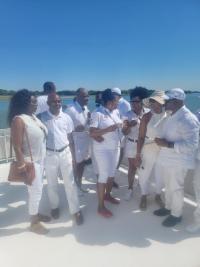 Friday Golf and Tennis:
Golfing became part of our SOBA America conventions in Baltimore in 2019. This year, Team Dallas took it one step further by adding a tennis tournament. Both events were highly competitive as SOBANS showed off their skills. Winners were rewarded with trophies on Sunday.
Friday: Welcome Dinner:
This year's welcome dinner was highlighted by His Lordship Bishop Michael Bibi who had a question-and-answer session with SOBANS and patrons. It was a frank exchange during which the Bishop apologized for mistakes that had happened in the past and pledged to work with SOBANS to build SJC Sasse back to the greatness it once enjoyed. It was an open conversation. Bishop Bibi was candid in his responses and offered convincing answers to many burning questions that SOBANS and the community had about the Diocese and SJC Sasse. It was the first time that a sitting Bishop had held what amounted to a press conference with SOBANS and the community at large in a public forum.
Saturday: Annual General Assembly Meeting
This year's general assembly meeting was the most professionally run AGM in the history of SOBA America. Delegates had their convention material already packaged with their names on their tote bags for the added personal touch.
The meeting was called to order at exactly 8:00 a.m. For the first time in our history, our meeting started on time. The entire agenda was kept on point and on time by moderator SOBAN Kevin Njabo. Deliberations ended on time at 1:00p.m. followed by mass which was, for the first time, heavily attended.
Several important decisions were made by the general assembly, including a by-laws amendment addressing membership in chapters. Our by-laws will be updated shortly to reflect the new amendments.
The intellectual enrichment session featured an engaging financial wellness discussion by Serge Pani, a financial expert. Bishop Bibi also laid out his vision for SJC Sasse. SOBA General President Ayuk Iyok also addressed the General Assembly.
For the first time ever, our SOBANESE were recognized and appreciated with a gift from SOBA America.
Saturday: Gala:
The gala was very well attended. DJ Big Mola and MC Bendrix Tabu, both fine SOBANS, ensured that SOBANS and their patrons had a great time. Team Dallas delivered on the VIP experience at the gala and throughout the weekend for VIP patrons. Standard segments of the gala such as awards ceremony and President's Club pinning ceremony were also featured. The Bishop of the Diocese of Dallas, The Most Reverend Edward Burns delivered a strong keynote address.
Sunday: March Past, BBQ and Games: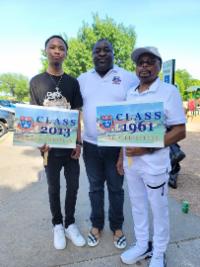 Sunday's activities were marked by the 2nd annual march past featuring classes from 1961 to 1993. It was exciting to watch. There was also a 5 O'clock fitness challenge, as well as a soccer game between SOBA America and SHESA USA. SOBA America won the game by 2 goals to 1. There was an abundance of food thanks to SOBAN Edie Raphael of SOBA Dallas who masterfully manned the grill.