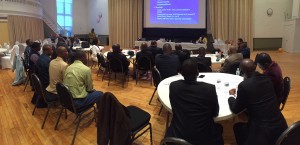 2015 Mini-Convention concludes on a high note
The Itoe administration's first showcase – the 2015 mini-convention – took place in Boston from November 13th to 15th. Delegates from all SOBA America chapters were present at the annual rendezvous of SOBA America's National Executive Committee.
The weekend kicked off with a highly attended welcome dinner event at Emeritus Norbert Kong's residence. SOBANS and their families were treated to some good food and libation prepared by the host chapter. The highlight was an impromptu inspirational keynote address from senior SOBAN Ni Tita of the New England chapter. Ni Tita shared his wisdom that spans from a vast experience in public service both in Cameroon and the USA.
The business meeting on Saturday featured several initiatives of the Itoe administration. The administration presented several elements of its ambitious and forward thinking vision for SOBA America, as it continues the transformation of SOBA America from good to great. Highlights included a presentation by the Vice-President, Dr. Bertrand Fote of Carolinas chapter, on the administration's flagship project – the SOBA America Scholarship Endowment Project. He outlined the administration's plans to create an endowment fund to provide annual scholarships to over 50 students in St. Joseph's college Sasse based on financial need and academic merit. He also unveiled the administration fundraising strategy, in an emotional address to the delegates, urging them to all play their part in raising the $250,000 needed to fund this great cause. The administration also outlined the new structure for SOBA America that will allow it achieve its goals of giving back to our alma mater while catering for its membership in the USA and Canada. There were also deliberations on improving the efficiency of SOBA America conventions,  accountability and smooth running of SOBA America chapters and other topics. At the close of the meeting, delegates were given a sneak peak of the Houston chapter's preparations for the 2016 SOBA America convention on Memorial Day weekend. Houston chapter vice-president and SOBA America Secretary Mbei Enoh gave a detailed presentation that highlighted the hard work done by his chapter to ensure a strong and successful convention come May 2016.
Saturday evening was marked by a fundraising gala. SOBANS, their families and their guests were treated to an evening of fun, laughter and entertainment, masterfully emceed by our own Bendrix Tabu of the Houston chapter. The DJ certainly did not disappoint, as the dance floor was kept full for huge portions of the night.
On Sunday, SOBANS and their families were treated to brunch at SOBAN Victor Kwo's residence. It was a wonderful opportunity for those from out of town to socialize, catch up and grab a bite before heading to the airport. Even the New England weather cooperated, as Mother Nature was kind to SOBANS from southern chapters who are used to warmth. In all, Boston 2015 mini-convention was a huge success. The baton is now passed onto Houston for the big event – the 2016 SOBA America Convention.