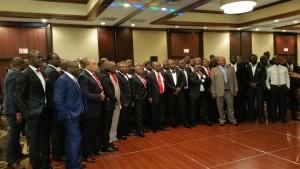 The 2016 SOBA America National convention has come and gone. By all accounts, Houston 2016 was a huge success. Here are some early comments from delegates at the convention
Congratulations Team Houston!
Just when we thought the magic of Montreal could never be replicated, I must admit we might have jumped the gun too fast. Houston was a blast of epic proportion. Our first single venue convention since Dallas 2011 at Blue Cypress Hotel! The turnout of Sobans of all ages was at an all-time high.
The Thursday early birds BBQ from 1pm to 5am the following day was so much fun. The endless supply of beef might have best been explained by the rumor that president Njie killed a cow and a pig. 
Friday night left many wondering if it was the gala…Live music from DJ Skipper was amazing as was the special karaoke from president Njie which was priceless and has gone viral. The food was excellent and more than enough for the 150 plus guests who rotated in and out of the hall.
Saturday's Gala and dinner was one for the ages. How about our very own MC –  Bendrix? Bendrix, you are simply the greatest! The entire event was full of class and carefully executed like a Picasso. What a hall? The food was great and service outstanding. The four star Hilton delivered as promised.
The BBQ on Sunday had over two hundred and sixty people in attendance at its peak. It might have been a record. The soccer game was close and interesting as Sobans dressed in our Pa Gang's jerseys took on Houston's soccer club.
Just when we though conventions end on Sunday, Team Houston took us into overdrive on Sunday after the BBQ with a heavily attended after party which ended at 4 am. You could see class groups and their respective spouses seated at different corners of the hall.
Team Houston in collaboration with the NLT just might have put this new concept/one stop convention in a class of its own. Special thanks to the Chair of the Convention Organizing Team Mbei Enoh, president Njie, Ngole Koge, emeritus Ayuk Etta, Bendrix Tabu, Awunja Fidelis and Frederick Welashy. You guys made us proud!!!
For the first time in forever, our deliberations and events started on time as promised. At 10am, our deliberation hall already had close to 57 delegates. Our gala had over 180 people by 9pm. Sobans proved they no longer believe in "African time". We are indeed in a new era of time keeping…
Atlanta, over to you.
Frederick Itoe (Dallas chapter) SOBA America National President
Thank you Houston for a job well done! For me the highlight was our meeting on Saturday. The use of the voting devices was evidence that Soba America is finally taking its place as the best African alumni organization in the Americas. Technology made our deliberations the smoothest it has ever been. The badges issued to each delegate and prepared in advance, brought our association to the professional standard it ought to be at. With security at the door, no one entered the deliberation hall that was not registered. The venue was superb. Hilton or any other four-five star hotel unlike the church halls of the past, is where a Soba America convention should always be. March on team Itoe! March on!
Michael Fondungallah, Esq. (MAL chapter), President Emeritus
Congratulations SOBA Houston for your show of love. It was great fun being with you all.
Thank you.
Dr. Aloys Ibeagha (Montreal Chapter Past President)
My Fellow Huston Brethren,
Thank you for the Southern hospitality. It was fun indeed and your show of love was contagious. I will share my "lessons learnt" write up when I return from a work-related trip to Japan June 3 – June 15. In the meantime, I must reiterate that I am proud to be a registered member of Soba America. To all you fine SOBAN brethren, now is the time to start renewing your membership in Soba America for 2016-2017. You will be hearing more from the Financial Team in the days ahead.
Peace Profound!
Felix Ngassa, Ph.D. (Tristate chapter), SOBA America National Financial Secretary
Congratulations to SOBA Houston and the SOBA USA Executive team. Job well done! This was my first convention and it was a blast! I am looking forward to Atlanta and the years to follow.
Long live SOBA!!!
Dr. Oscar Embola (MAL Chapter) – First time delegate!
This was a great convention. The SOBAN Spirit was high in the air. Great job to all the executives and members that helped to make it a success!
Major Fidelis Agbor (Georgia Chapter)
Congrats team Houston (Kennybams) & team Itoe (NLT). The bar keeps getting higher and higher, keep it up!
Manny Kunju ( New England Chapter)
Folks, we got home safely but tired from all the fun in Houston. First it was Minnesota, then Montreal and now Houston has joined the list of great conventions. Atlanta the bar has been elevated, but like your president said in the GA, we have not seen anything yet. I know New England took notes against 2018.
Team Mafany and Team Houston, I applaud you all. The deliberations were very professional, Houstonians, your hospitality was excellent, Kenny Le Bams and Ayuk , you guys added a little Limbe flavor from Bamboo. To all our Sobanese, the meals were very tasteful and you all looked spectacular.
Thanks to everyone that contributed, towards Houston 2016. See you all in Hotlanta in 2017
Norbert Kong ( New England Chapter) – President Emeritus
Soba-Houston, 
May I join the brotherhood to say you did it the Soban way: few, proud and different! Although there were many Sobans in attendance, they were the chosen few, proud to represent Sasse and obviously very different from all. 
Yes, you did it. The entire team led by President Kenny Bams and with collaboration from NLT, this was a successful convention.
Fellow Sobans, we can assure you that anyone who misses "Atlanta 2017 Soba-America Convention", will leave to regret that decision. As they say, "you think you've seen it all, you ain't seen nothing yet" until you get to Atlanta on Friday May 26, 2017.
May God bless Sobans and all our departed brethren. Amen
Ako Asa'na (Georgia Chapter President)
Congratulations to SOBA HOUSTON for a well-executed convention. Your well-oiled machine led by Enoh Mbei, president Kenny Bams, Ngole Koge, Bendrix Tabu, etc. was up to the challenge; I left Houston impressed by everything you put in place to make us feel at home. There was class everywhere I looked. A big shout out to the Houston Sobanese for playing your roles to perfection!
The diligence of the local Houston team on the ground was crowned by the national executive team that arrived Houston primed to wow us with its professional touch.

Take a bow guys for a job well done!
Paul Ayah (Montreal Chapter) Co-chair of the board, Sasse Alumni Association
On behalf of the Ngandos and Agbors, I want to thank, SOBA AMERICA, for the AWARD that you granted to our father PA-NGANDO, for his long service with Catholic Mission and especially St Joseph's College Sasse -Buea.
We'd plenty of fun with the Sobanes and children with much to eat and drink. The tour to places of interest around Houston was cozy.
 SOBA Houston way to go and congratulations to President ITOE and his team!
To my wonderful husband God bless your soul for taking all of us to the SOBAN Conventions.
Mrs. Joan E. Ngando-Agbor (SOBANESE and daughter of Pa Ngando, longest serving Principal who as honored at the gala)