Soba America Convention 2017: Atlanta
Written by Mr. Divine Tange and Edited by Prof. Felix N. Ngassa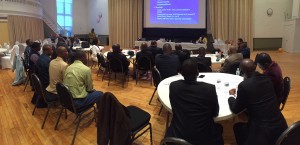 As early as Wednesday, May 26th, some delegates had already installed themselves in Atlanta. They were treated to some beautiful southern cuisine as well as good music by members of Soba Georgia. The next day, Thursday the 27th, there was an early bird reception hosted by President Asa'na. In typical southern fashion, convention delegates were given a treatment fit for royals. There was plenty of good food and drinks of all assortments. Delegates also waltzed to the tune of good music until the wee hours of Friday morning. This was still part of the warm up act.
Friday saw the arrival of most of the convention delegates. In their numbers, they came…young old; in limos, taxis, rental cars etc. The high-fives were quite audible; the hugs warm, gentle and genuine; their swag unmistakable (some were even doing the dab), as Sobans were so excited to see each other after a while. The Marriott Atlanta Northwest had never seen such a multitude of handsome gentlemen-accompanied by their beautiful families-at their hotel. One employee was overheard whispering to another that it was such an unbelievable sight to behold.
Before all the laughter and excitement could subside, it was time to head out to the ever-popular Sea Breeze restaurant for the official welcome event. The meals and hospitality offered by our Soba Georgia Sobanese were, put succinctly, out of this world. Sobans were treated to a night of cordon-bleu cuisine, drinks and music.
Saturday morning began with a solemn mass at the hotel celebrated by the newly ordained Father Akoh and Father Tegha the Dean of student life at S.J.C Sasse. It was, inter alia, a moment to thank the Almighty for journey mercies and to pray for a smooth and safe convention. Right after mass, Sobans rushed to the hotel's restaurant for a sumptuous buffet-style breakfast. At the end of breakfast, it was time for one of the most important aspects of the convention, the deliberations. After the sign-in protocols had been observed, the deliberations started with a word of prayer, after which Sobans sang the Sasse anthem.
Highlights of the deliberations included, a standing ovation after the State of Soba America presentation by President Frederick Mafany Itoe; a Soba America day 2016 presentation by Soba America Vice President Dr. Bertrand Fote; deliberations on death benefits regarding Soba America members. Prominent of note was the reelection by acclamation of the Itoe-Fote administration for a second and final term of office. New arrivals to the National Leadership Team included Mr. Divine Tange as Organizing Secretary and Czar Njukong Asong as the Publicity Secretary. Worthy of note was the conspicuous presence of Sobans of the 1984 class led by their charismatic President Mr. Ferdinand Akoh. Dressed in their elegant blue Polo tee shirts and brown khaki pants, their colorful presence was an actual Kodak moment. It should also be mentioned that most members spotted their chapter shirts. Sobans also had a moment of silence for the souls of the faithful departed especially for our fallen brothers Dr. Roland Iboni and Mr. Kenneth Ndelle. The deliberations went on all day.
While Sobans deliberated, their families were treated to a tour of the beautiful Atlanta. Amongst other must-see locations, Sobanese and other Soba families visited the Martin Luther King Memorial, the Coca Cola Center as well as the CNN Center. By the time they got back from sightseeing, it was time to join the Sobans for a sumptuous dinner accompanied by musical presentations. While this was going on, the hall for the gala was being set. Thereafter, Sobans retreated to their room to prepare for the gala.
T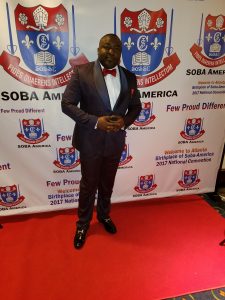 he gala red carpet was a la Hollywood. The gala itself was panache of splendor and elegance as evidenced by the pictures. The gentlemen all looked elegantly dressed and the Sobanese all looked gorgeous to make for an evening of glamor and merrymaking. During dinner, we were treated to live music by one of Atlanta's best saxophonist. After dinner, some Sobans received service awards for their dedication to Soba. Founding President Emeritus Quintus Enow was the recipient of Soba America's 2017 Spotlight Award. In presenting this award to Emeritus Quintus, President Itoe called on all Sobans to follow his lead as an example of true Sobanism. Soba Dallas also received an award for its $14,000.00 borehole project in Sasse, while the 92 Class received one for its Desks Project in Sasse. Additionally, the 1984 class was recognized as the most engaged class in Soba America. Sobans, their families, friends and invitees, partied until the early hours of Sunday. The most memorable event of this night was the surprise appearance of the most senior Soban in the US, Pa Awasum of the class of 1943. As he took to the floor to speak, after the introduction by our very own MC Bendrix Tabu, the extended standing ovation Pa Awasum received was one for the history books. It is a moment most of us will cherish forever. It showed respect and honor for our most senior Soban in the house. Like every good thing, even this gala had to come to an end. It was 5:30am when most of the guest started retiring to their rooms.
Most Sobans spent Sunday trying to recover from the dizzying pace of activities during the previous couple of days. However, Soba Georgia members and their families weren't done entertaining us. On Sunday afternoon, it was time for BBQ, soccer and tennis. Our Georgia Sobanese came out in their beautiful logo-ed shirts, sang for Sobans as the band, led by Senior Soban Ernest Tate, played. While some enjoyed their barbecue, Our SOBA America soccer team led by distinguished musician and player, Petit Pays, won the 2017 Convention Cup. Soban Ngwashi Collins was the highest goal scorer. Quite a memorable moment as Sobans feasted on pork ribs, chicken, beef as well as assorted drinks. Sobans reluctantly said their goodbyes while promising to answer present next year in the beautiful city of Boston.
In all, Atlanta 2016 was another breakthrough convention for Soba America. Sobans once again proved that they are the best amongst equals when it comes to ex-students' associations. They keep raising the bar for everyone else to follow. Thanks to Sobans of the Georgia chapter and their families for the sacrifice they made to successfully host this August event. Special thanks to convention Chairman Beltus Ntopi as well as President Harry Asa'na for their tireless efforts to oversee the convention preparations including the convention itself. Thanks also to the National Leadership Team led by President Mafany Itoe and VP Dr. Bertrand Fote for their dedication and commitment to Soba America. Last but not the least, thanks to all the Sobans, their families and friends/guests who contributed to making this event a historic one. We look forward to seeing you all in Boston next May.