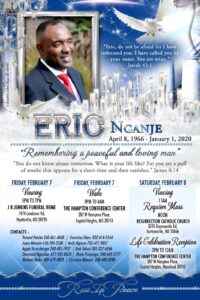 Our SOBA America family was once more stricken by the cold hands of death in the early hours of January 1st, 2020. SOBAN  number  2864 – Eric Nganje – was called to the Lord. He was admitted into SJC Sasse in 1978. He was a registered member of SOBA America and  a member of SOBA DMV.  SOBAN Nganje's death was a shock to us all as he was doing fine. He leaves behind his dear wife Patricia, daughter Hannah and many family and friends to mourn his death.
Funeral services will be held in the weekend of February  7th and 8th, 2020. The wake will be at the Hampton Conference Center in Capitol Heights, MD on Feb 7th.  Requiem mass will be at the Resurrection Catholic Church in Burtonsville, MD on Saturday February 8th at 11:a.m., followed  by a celebration of his life at the Hampton Conference Center.
Our thoughts and prayers are with Grand Erico's family during this difficult time. May his gentle soul rest in peace with the Lord.